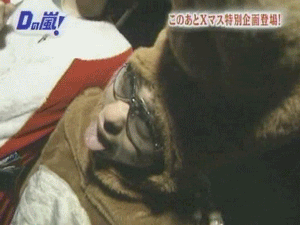 Where did I steal this from? :\
What does this tell you?
(Sorry, I'm just gonna copy and paste from last year's project post >.<)
Yes, Christmas is gonna be here soon! (Which means Aiba's birthday is coming soon too!) :DDD
I'll be sending Christmas cards to those of you who want it (as long as I know you). :D This is not an exchange. It's okay if you don't reciprocate my feelings. Really! :D Also, it doesn't matter if we haven't been LJ friends for long! :)
As for how the Christmas cards will look like, I cannot confirm yet but I'll do my best to send you nice ones. :) Just to let you know, they may be postcards instead of the usual greeting cards.
If you want a card from me (or are forced to leave down your address by me),
post a comment in the following format:
Recipient's name:
Address: (please include which country you're from as well and remember to check through what you've typed)
Dun be shy! Comments are screened!
When I'll stop accepting addresses: 7 Dec 2010 (for both local and overseas friends)
NOTE: If you have changed your address, please let me know! :)
Current Mood:

scared